Company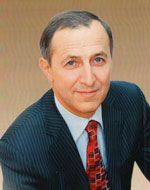 Welcome abroad!!!
Welcome to our website!
Kazan avia enterprise was founded 01.01.1994 based on units of Kazan Joint Stock Corporation regional aviation. Over the years the company has become one of the leading regional aviation in Russia. It is characterized by faithfulness to tradition and rich experience, high professionalism and focus on cutting-edge features.
The staff of 320 people, aircraft fleet - more than 30 helicopters and planes. Basic airports - airport Kazan and Kurkachi. Geography of flights - the Russian Federation. The main field of activity - Aerial work in the national economy, charter flights, as well as maintenance of all types of aircraft operated.
Kazan is the first airline in Russia Authorized Technical Center on helicopters Bell.
Careful attention to customers and partners - the hallmark of the company.
Best regards,
M.Zakarhaev.